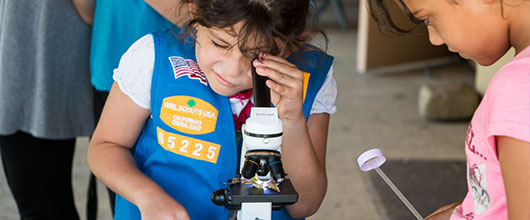 Support Our Program Centers
D'Arrigo Leadership Program Center
Girl Scouts in the Monterey County area have called Castroville home since 1986 when it moved its regional Girl Scout office to the 10550 Merritt Street bank building originally built by Andy Ausonio. Now, we have an opportunity to transform this office into a Leadership Center designed to meet the needs of today's girls and the adult volunteers and staff who support them.
The new center will feature:
Community room for Girl Scout Troops, volunteer training, and public use
State-of-the-art media center,
Collaborative office space for council staff,
Drought resistant native plant landscaping.
Your investment in our $250,000 Leadership Center project will serve over 1,400 volunteers and 3,500 Girl Scouts in Santa Cruz, Monterey and San Benito Counties. The 'new' Leadership Center will be a place where troops can meet after school, girls can attend programs on weekends, volunteer leaders can be trained, and community groups can gather at no cost.
Invest in their future by making a donation today. Contact development@girlscoutscc.org
Monarch and Breeding Research Institue at Camp Arnaz 

In Ventura County, girls have been enriched by experiences at the Camp Arnaz Program Center for nearly 35 years while learning self-reliance, enjoying nature, and making lifelong friends. Altogether, tens of thousands of Girl Scouts, and individuals from outside groups, have had this same rich outdoor experience since Arnaz was dedicated in the early 1980s. Just last year, 6,000 campers enjoyed the Arnaz experience.
However, upgrades are needed to maintain this quality outdoor experience venue for the girls in our area. Our goal is to raise $500,000 to upgrade camp facilities, including the lodge, cabins, restroom buildings and several rain/shine picnic shelters, plus offer programming that moves at-the-speed-of-girl with features like low ropes courses, environment and science activities, and more.
Contact: development@girlscoutsccc.org