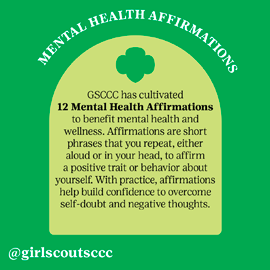 Did you know affirmations can be a positive impact on your heatlh? 
Affirmations are short phrases that you repeat, either aloud or in your head, to affirm a positive trait or behavior about yourself. Practicing affirmations help build confidence to overcome self-doubt and negative thoughts. Seems too good to be true, however there is scientific evidence to support the health benefits of affirmations. Research show that affirmations can increase feelings of self-worth and boost confidence, making it more likely for those that practice these simple phrases more susceptible to acheiving their goals.
Girl Scouts of California's Central Coast has created a Mental Health Toolkit for every girl that joins or renews their Girl Scout Membership for 2023-2024. 
 Kindness: Be Kind to yourself. Girl Scouts are taught to respect themselves and others. Sometimes we are the toughest critic of ourselves. This affirmation will help to change a negative view of oneself.
Self-Care: Grateful for the body you are born in! A stronger sense of self can help you adapt when faced with adversity. Take care of your body and treat it with respect.
Sisterhood: Girl Scouts encourage friends and girl bonding while having fun! Joining a program with the same age group helps girls have a stronger connection reducing the fear of being alone. This positive experience boosts a girls self-esteem.
Physical Movement: Your body is a super computer that is strong and powerful. Get moving even if its just a game of tag or walking a nature trail. Increasing movement increases endophines in the brain resulting in a positive boost.
Stress Free: Creating a fun positive space environment to decrease levels of health-deteriorating stress on the body.
Get Involved: Girl Scouts promise to help people at all times. Helping others not only creates a positive benefit for the recipient, it also creates a higher sense of purpose for the philanthropist. 
Healthy Eating: By choosing to fill your body with healthier choices that are less self-sabatoging to the body. Making small steps and writing down how certain foods can fuel your adventure will encourage you to make a better descision. 
Uniqueness: Happy to be me! You are one in a million! Celebrate what makes you special and remind yourself there is no one quite like you! 
Mindfulness: Mindfullness is paying attention to the present moment in turn giving more insight into emotions, boosting attention, and concentration. Insead of being overwhelmed by your feelings, you can manage them through breathing techniques, stretching, and meditation.
Setting Goals: Setting small goals or large ones and accomplishing them builds confidence! Plan small goals that are obtainable and build off of them for the larger goals. 
Outdoors: A connection to nature can benefit wellbeing. Taking a break to enjoy the fresh air, sunshine ,or the rain can create a positive mood boost. 
Education: Learning, even learning through our mistakes makes us stronger academicly. Being proud of your accomplishments and having an open mind to learn more gives you the confidence to further your career. 
Join Now to receive your Mental Health Kit 
Step by Step Renewal Instructions:
Benefits of Positive Affirmations:

Affirmations and Research cultivated by © 2023 Bite Out of Life Nutrition