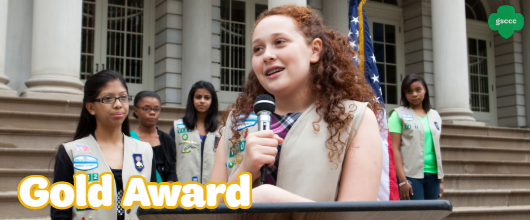 Solving the world's biggest problems
A Gold Award Girl Scout channels her leadership, passion, work ethic, and creativity toward developing innovative solutions to society's most pressing challenges.

Through the years, Gold Award Girl Scouts have worked to:
Advocate for human rights
Reduce the stigma around mental health
Curb plastic pollution
Promote girls' involvement in STEM
Expand public awareness of human trafficking
Meet some of our very own GSCCC Gold Award Girl Scouts!
These girls have changed the world. And the Gold Award has changed their lives dramatically, empowering them as change-makers. See their stories.
The Girl Scout Gold Award is the highest award a Girl Scout can earn. Once achieved, it shows colleges, employers, and your community that you're out there changing the world.
Join a century of women who have done big things. Learn about scholarships for Gold Award Girl Scouts, the history of the Gold Award, and the benefits of going Gold. 
The requirements for applying to earn your Girl Scout Gold Award are simple.
Girls must:
Be in 9th, 10th, 11th, or 12th grades
Be a registered Girl Scout Senior or Ambassador
Have completed two Senior or Ambassador Journeys OR have earned the Girl Scout Silver Award and completed one Journey
7 Steps to the Gold Award

Identify an issue.
Use your values and skills to choose a community issue that you care about.

Investigate it thoroughly.
Use your sleuthing skills to learn everything you can about the issue you've identified.

Get help and build your team.
Form a team to support your efforts and help you take action.

Create a plan.
Identify the root cause of an issue, and then create a plan to tackle it.

Present your plan and gather feedback.
Submit your Project Proposal to Girl Scouts of California's Central Coast for approval.

Take action.
Lead your team and carry out your plan.

Educate and inspire.
Tell your story and share your results.
Gold Award Girl Scouts create measurable, sustainable, and far-reaching impact by making a remarkable commitment to issues that are important to them. Their efforts reflect a stunning ability to drive meaningful change. Be part of this amazing community of women!